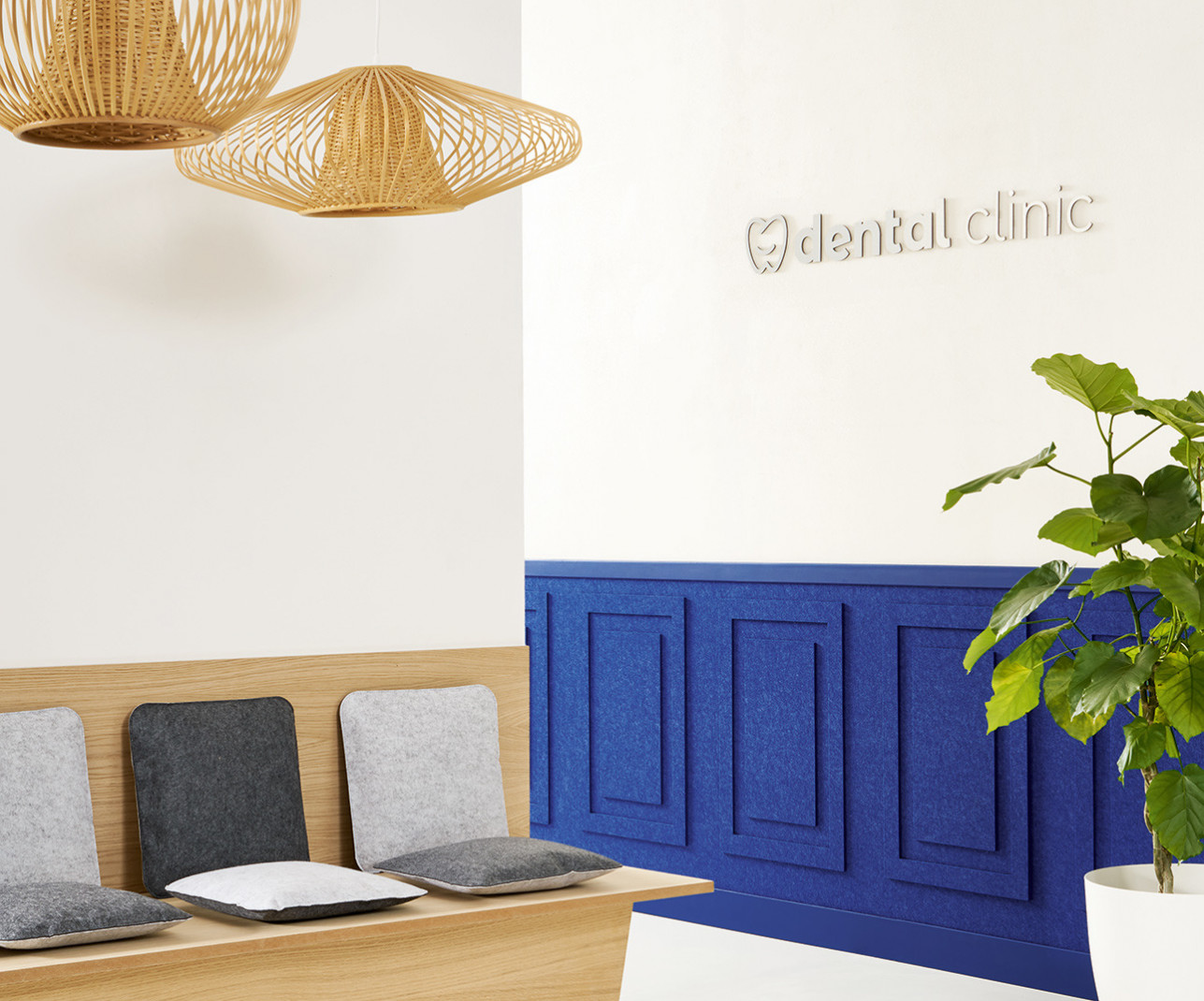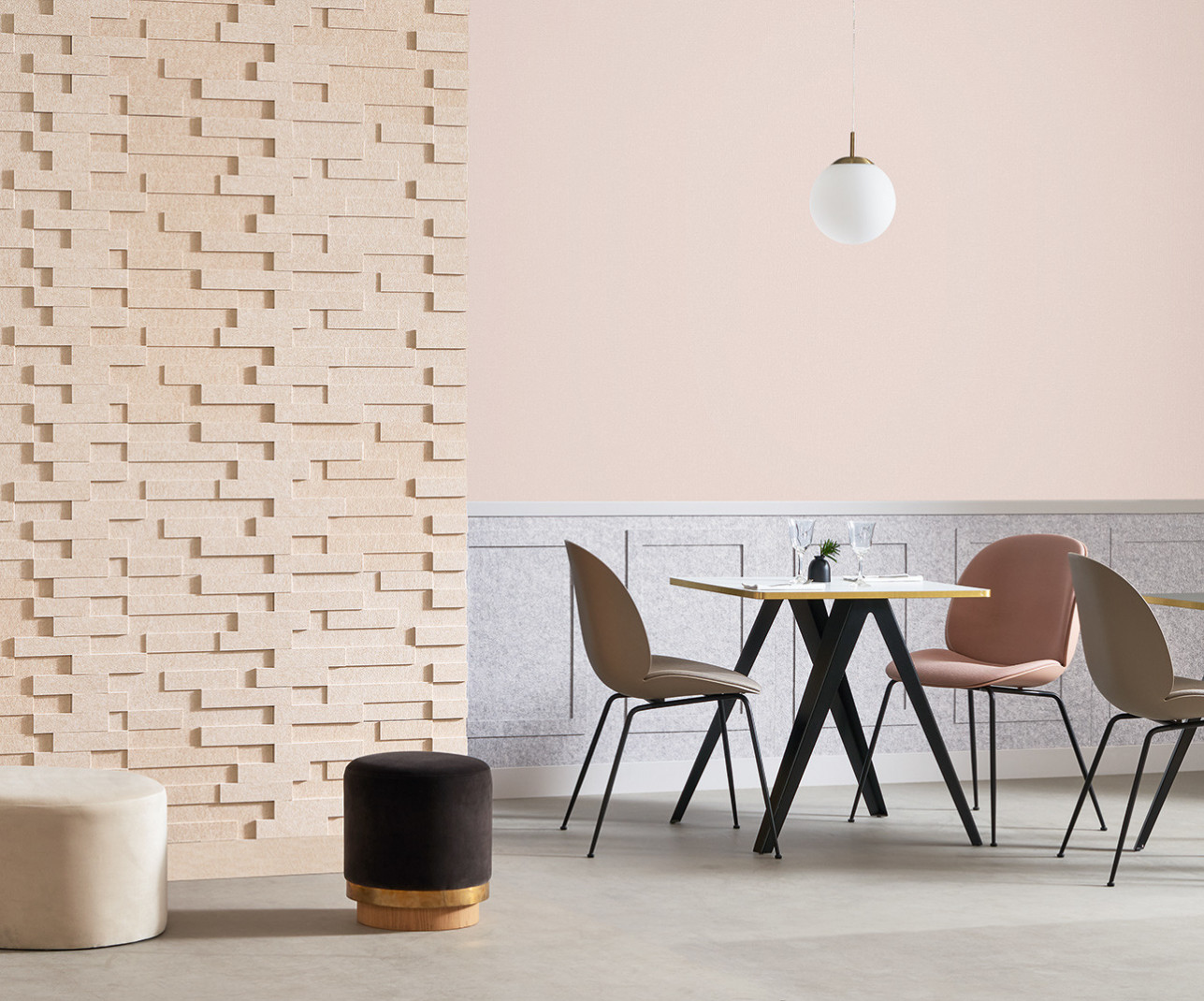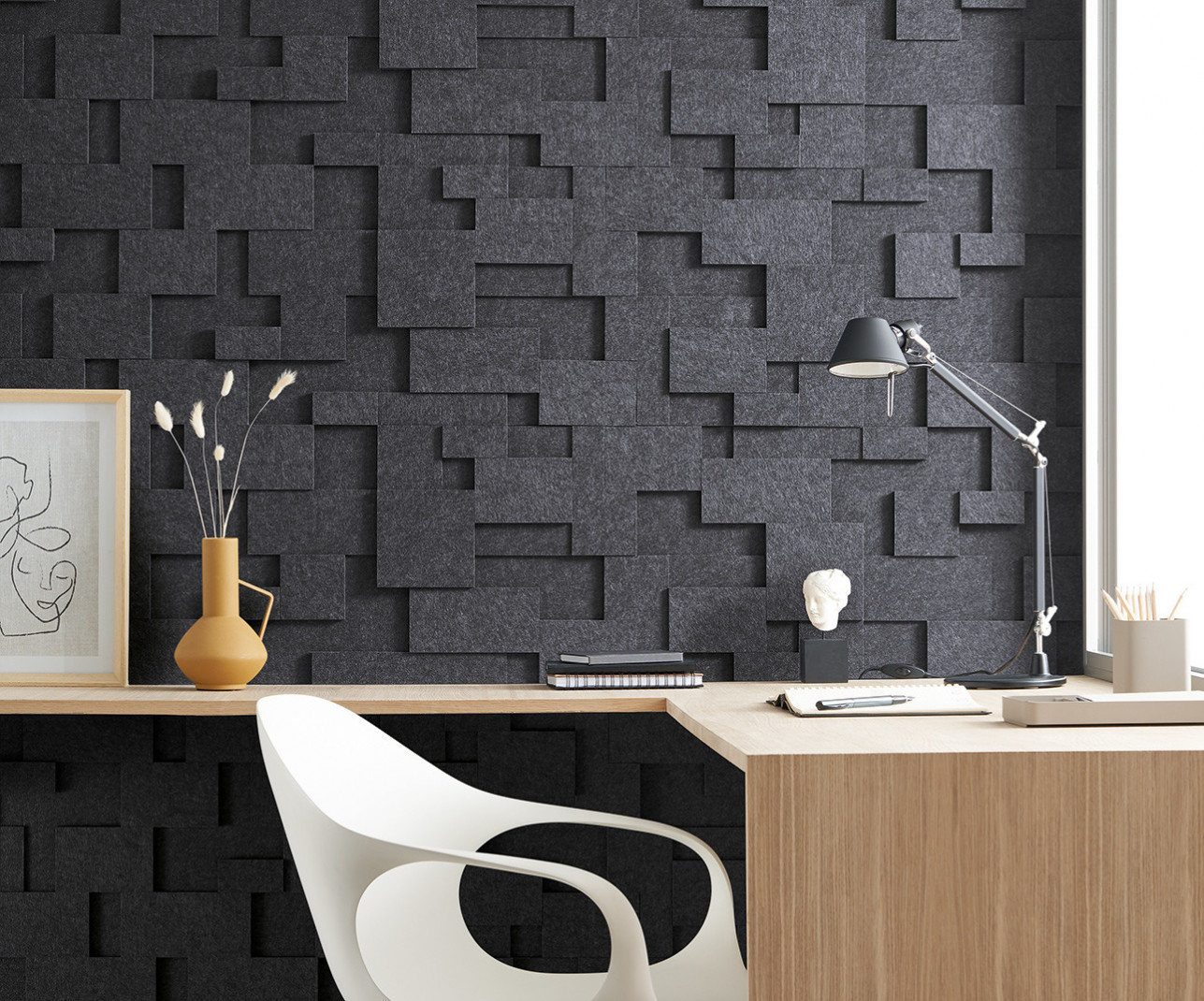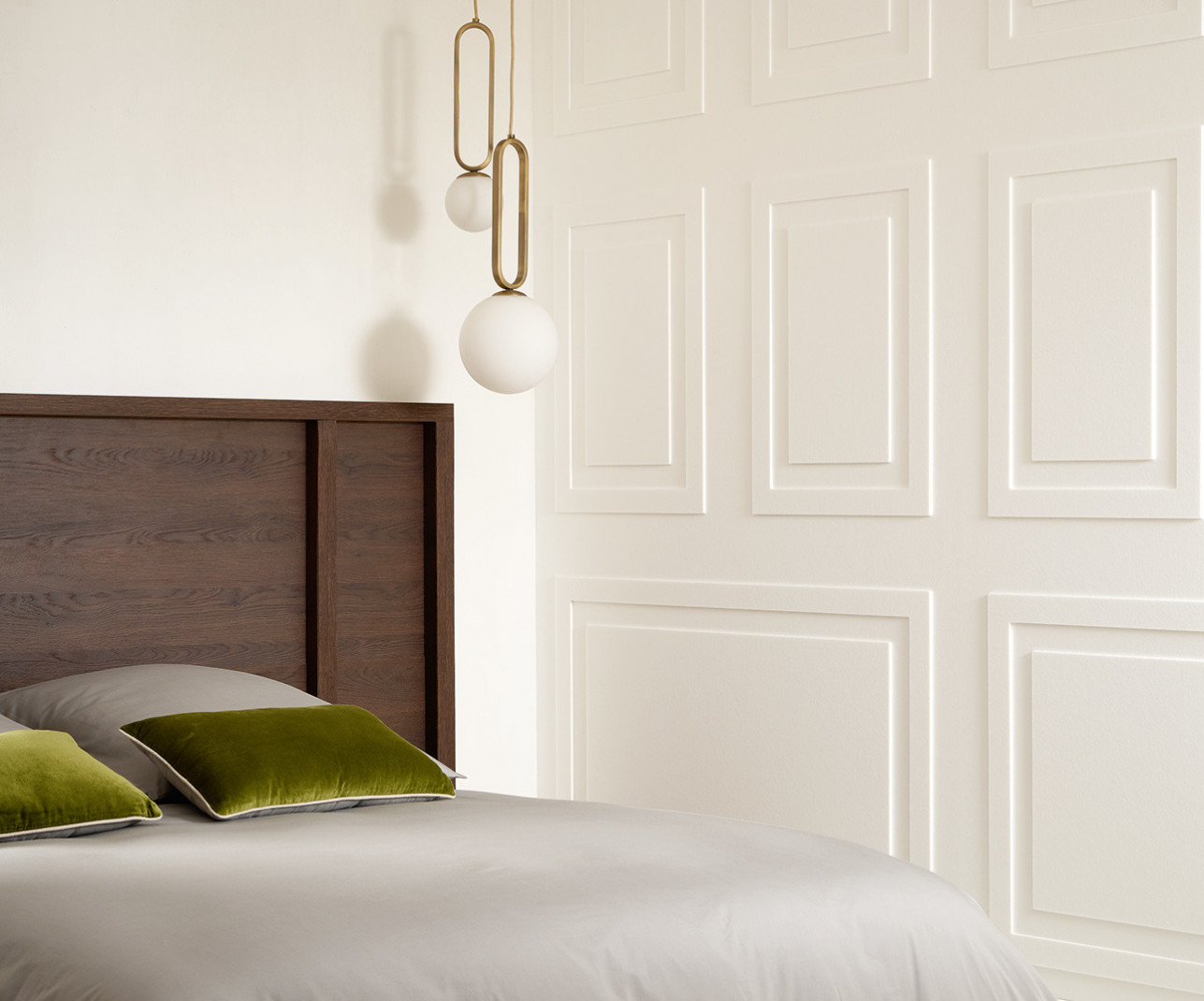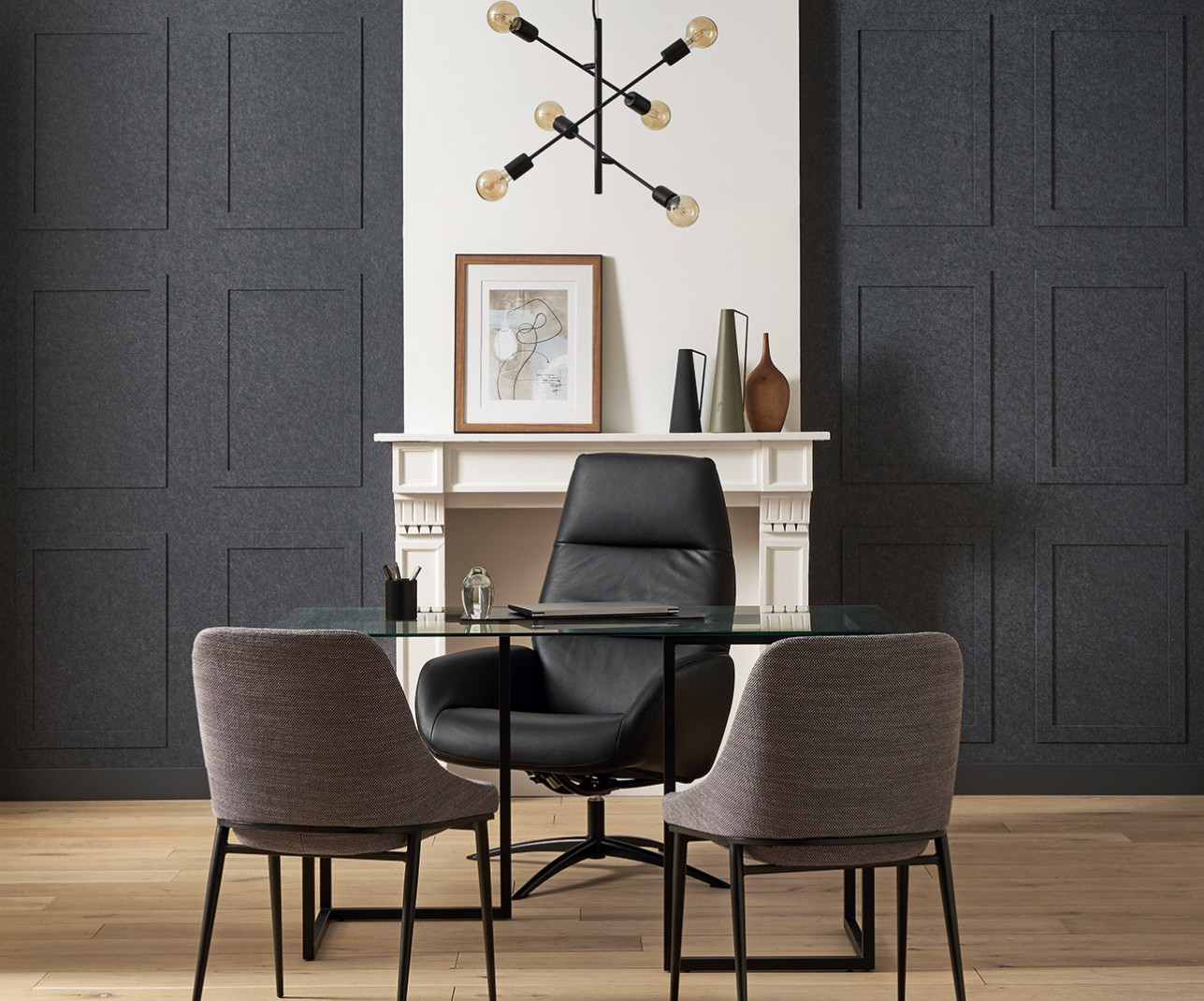 SLIMWALL
Eco-friendly absorbent compact felt acoustic wallpanel
The SlimWall collection offers decorative acoustic wall panels to be glued down. Contemporary patterns have been designed in 2D or 3D relief, inspired by moldings and facings.
Read more
HAUSSMANN-2D
HAUSSMANN-3D
RIVOLI-2D
RIVOLI-3D
VERSAILLES-2D
VERSAILLES-3D
MINNEAPOLIS
CHICAGO
LONDON
AMSTERDAM
MOULDINGS

Each model is available in 2 versions : with 2 cut-outs (2D) or 3 cut-outs(3D), creating the recesses, moulding shape and varied thicknesses. Classic or contemporary, these variations create an acoustic surface to decorate walls and personalise spaces.
The finishes
The ready-to-paint MDF skirting boards and picture rails are designed to add beautifully finished wall decorations for all settings, making the SlimWall collection a complete solution for both builders and contractors. Their shapes are designed to by modular to create multiple layouts to adapt to the architecture of your space. PANELLING

Created from 9mm Pet compact felt boards, the Panelling models are composed of complex architectural shapes, superimposed and overlapped small geometric shapes, on 3 alternating levels. Different layouts create unique models, with their varied patterns when they catch the light.
The different thicknesses and shapes of these 3D wall structures are designed to efficiently contribute to the treatment of sound vibrations and the acoustic absorption of your space.

ADVANTAGES

Environment
Compact PET felt composed of 50% recycled fibres from plastic bottles.
A creative offer
2 Product lines Moulding & Panelling | 10 Models | 15 Colours and multiple combinations Wallpanels to paste To decorate your walls 3 picture rails and skirting boards
A high performance wallpanel
Improve the acoustic comfort and decor together αw 0.25 - 0.40 / NRC 0.35 - 0.45 Thickness : 9.18 and 24 mm Easy to paste : paste the wall, edge to edge hanging Shock resistant Easy to transport and handle : board dimensions 400x800mm or 800x1200mm Care : clean using a vacuum and a damp cloth. Carpet cleaning products may be used for stubborn stains.
A functional concept
Modular models : customise the layouts And create decors to suit the style and the architectures of your space. The raised areas and recesses of the models optimise the sound absorption of the panel.




SLIMCOLOR

Choose the colour in the Slimcolor leaflet : 9mm thickness compact felt.