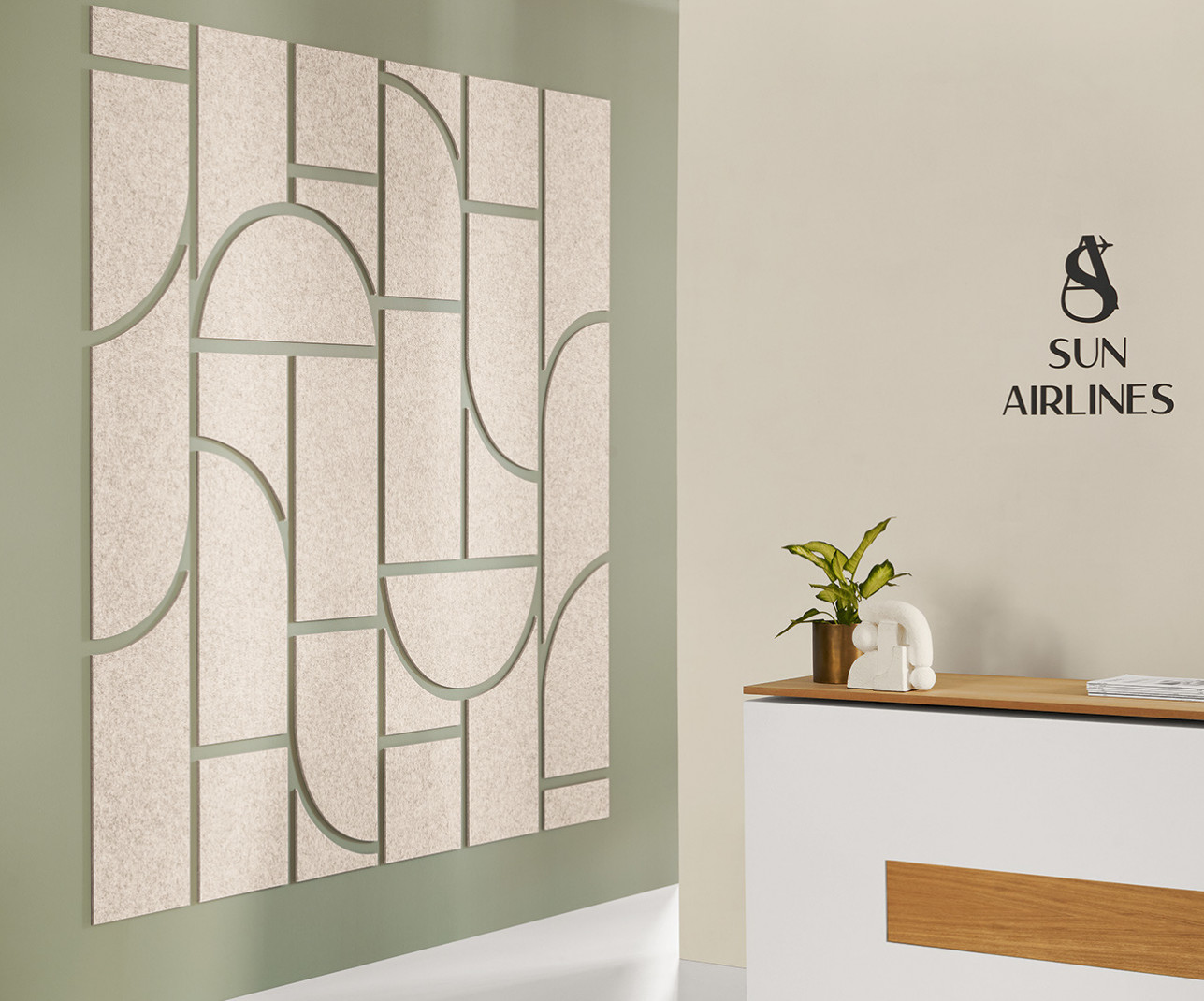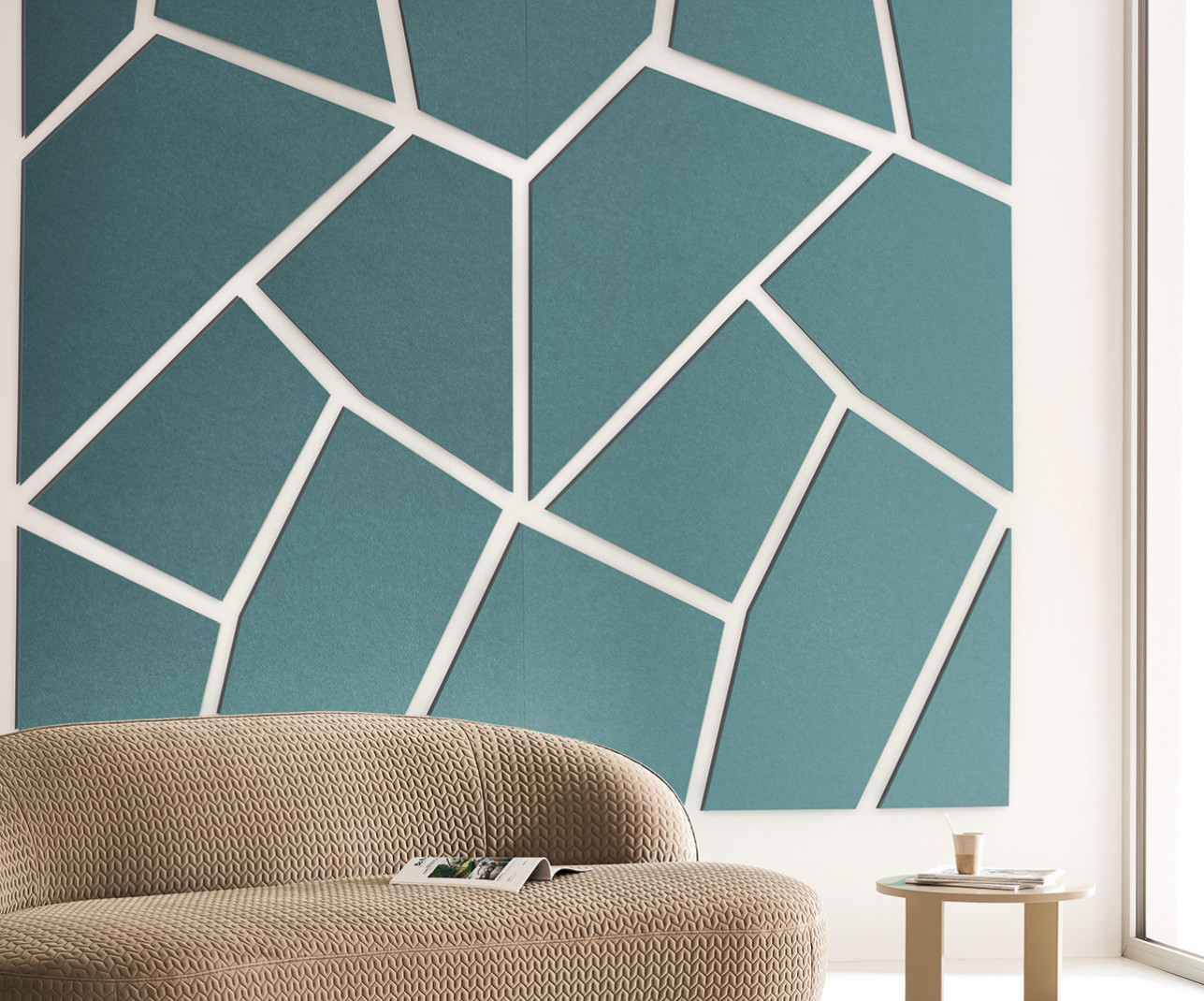 SLIMWALL FRAGMENT
Eco-friendly absorbent compact felt acoustic panel
Minimalist and architectural, this collection features two simple yet elegant decors. The rounded geometric shapes add a unique accent to your space. These shapes, with either an attractive background colour or on a backlit transparent surface, are sensational.
Read more
ARTY
GEOMETRICS
SlimWall Fragment is supplied with an installation template. This easy to install collection will add a unique accent to your space. Dare to use contrasting colours for the background and panels to brighten your wall surface.
This acoustic solution is synonymous with simplicity and originality.

Fragment is an Art Deco, graphic and on-trend acoustic solution.

Available in the 20 colours from the SlimColor palette, SlimWall Fragment appeals to the imagination. The collection features 2 designs, in 2400 x 1200, connectable, designed and produced to create more than 240 decors.
br> Art comes to your walls:
Fragment Géometrics: With a sober and refined décor inspired by geometric shapes
Fragment Arty: With graphic shapes like modern stained-glass windows
This collection is not only an invitation to invention, but the material used is also of interest:
It is made of 100% PET of which 60% comes from recycled plastic bottles and SCS certified. This solution can be used for green construction programmes such as LEED.
This space-saving solution needs no pre-installation preparation. The Fragments are mounted one after the other using the template provided.

Use

- Acoustic conformity αw of 0.25 depending on the layout. Efficient correction from mid-range frequencies, respectively αS 0.35 at 1000Hz and meets NRA (French acoustic regulations). Details available on the website www.texdecor.fr
- Environmental :
Product eco-designed using 60% recycled plastic bottles. SCS certified, this solution can be used in green construction programmes such as LEED
- A cost-effective solution
A single decorative product to correct the acoustics. This solution, used with a lovely wall colour makes your space unique.
- An elegant & comfortable look
The felted look and its touch add an additional feeling of comfort
- Quick and easy installation
Supplied with a mounting template, installation is easy and no special preparation is required on-site. Whether glued or nailed, installing the Fragments is easy.

Suitable sectors
These acoustic wall Fragments are designed for beautiful spaces:
- Services: meeting and conference rooms, offices, banks, reception areas…
- Hotels: lobbies, lounges or restaurants, seminar rooms…
- Specific-use building: theatres, reception rooms, concert halls, casinos, courtrooms…
- Private: home cinemas, living rooms




SLIMCOLOR

Choose the colour in the Slimcolor leaflet : 9mm thickness compact felt.

Offices. Marcq-en-Baroeul. France / SLIMWALL FRAGMENT