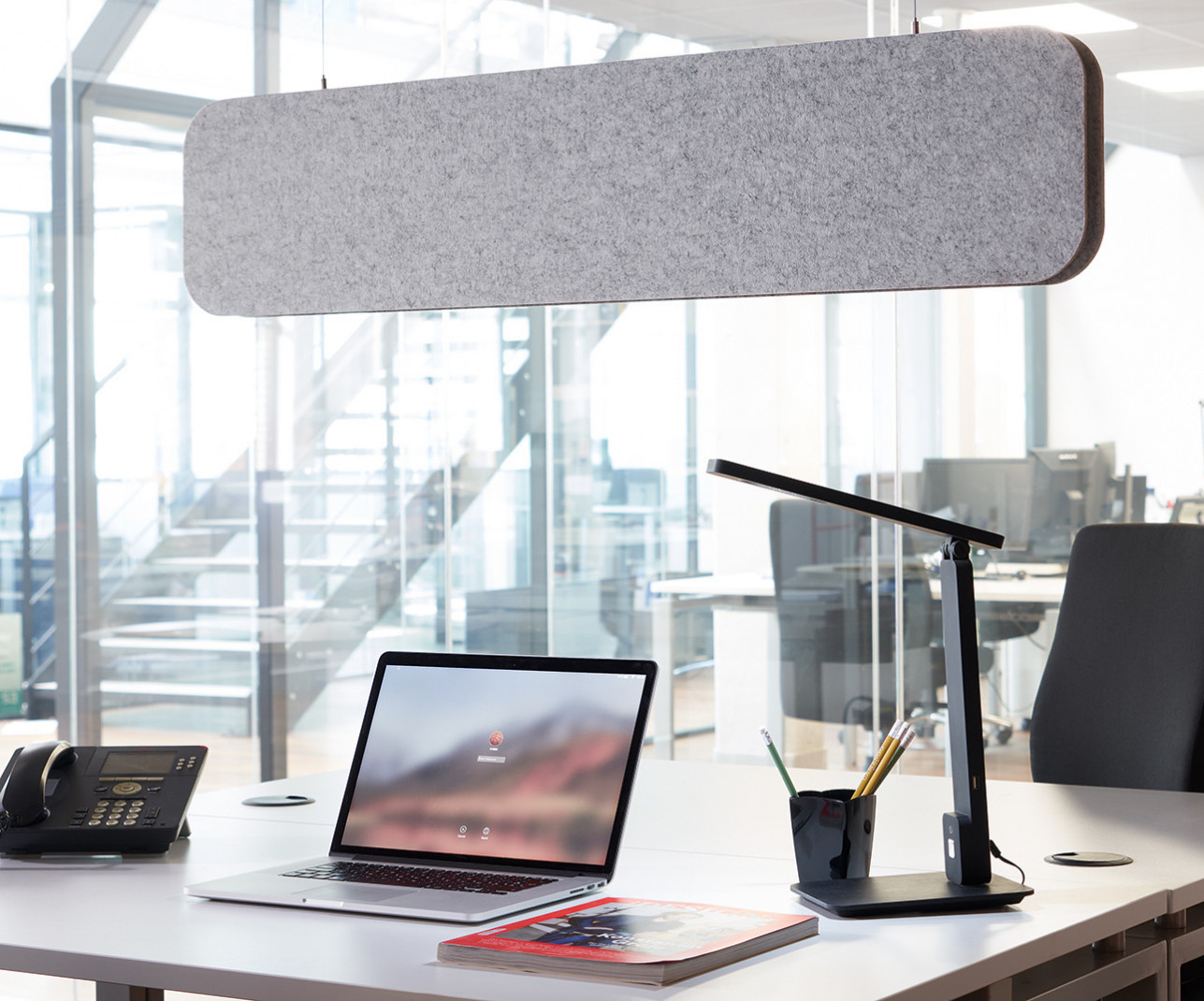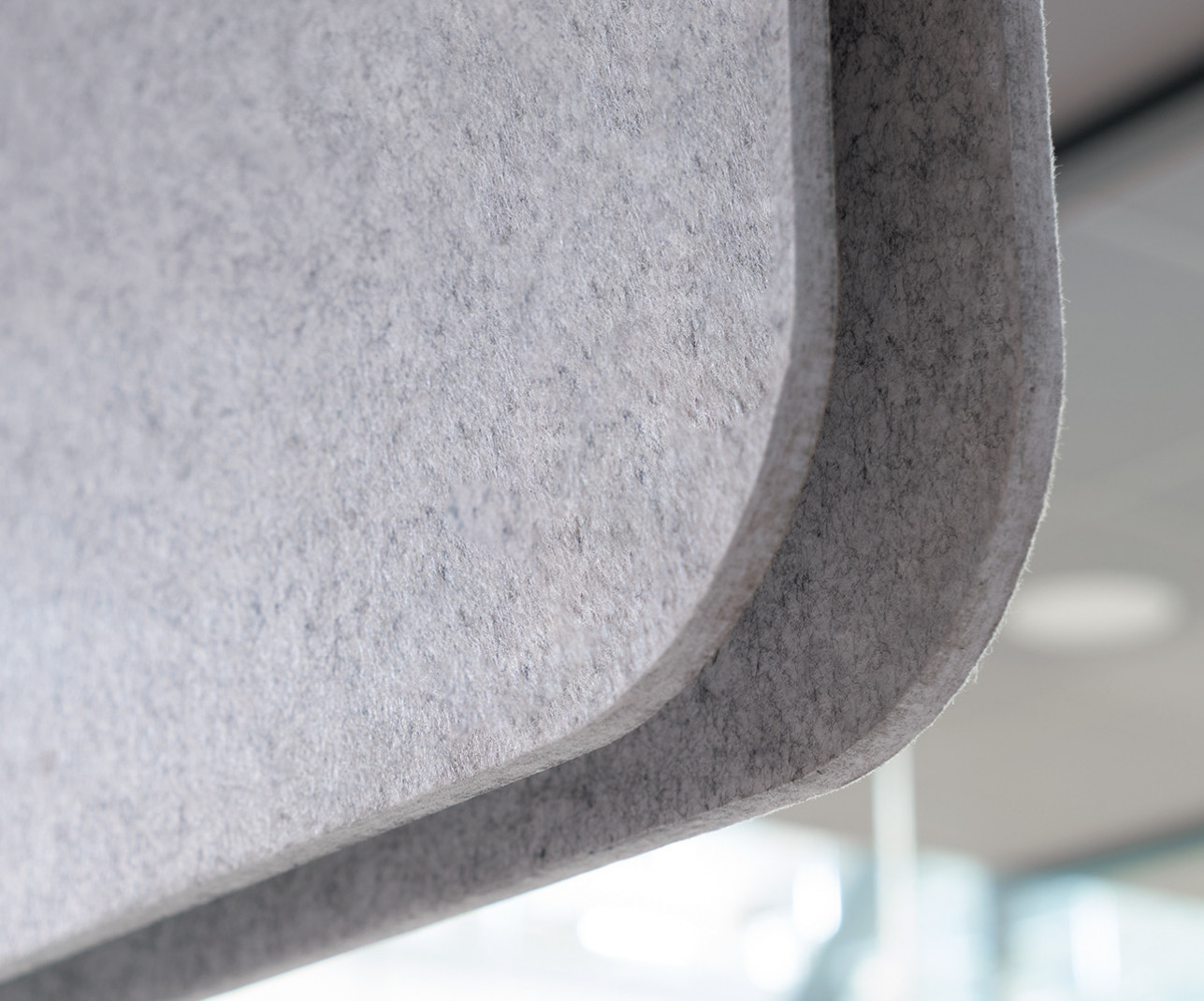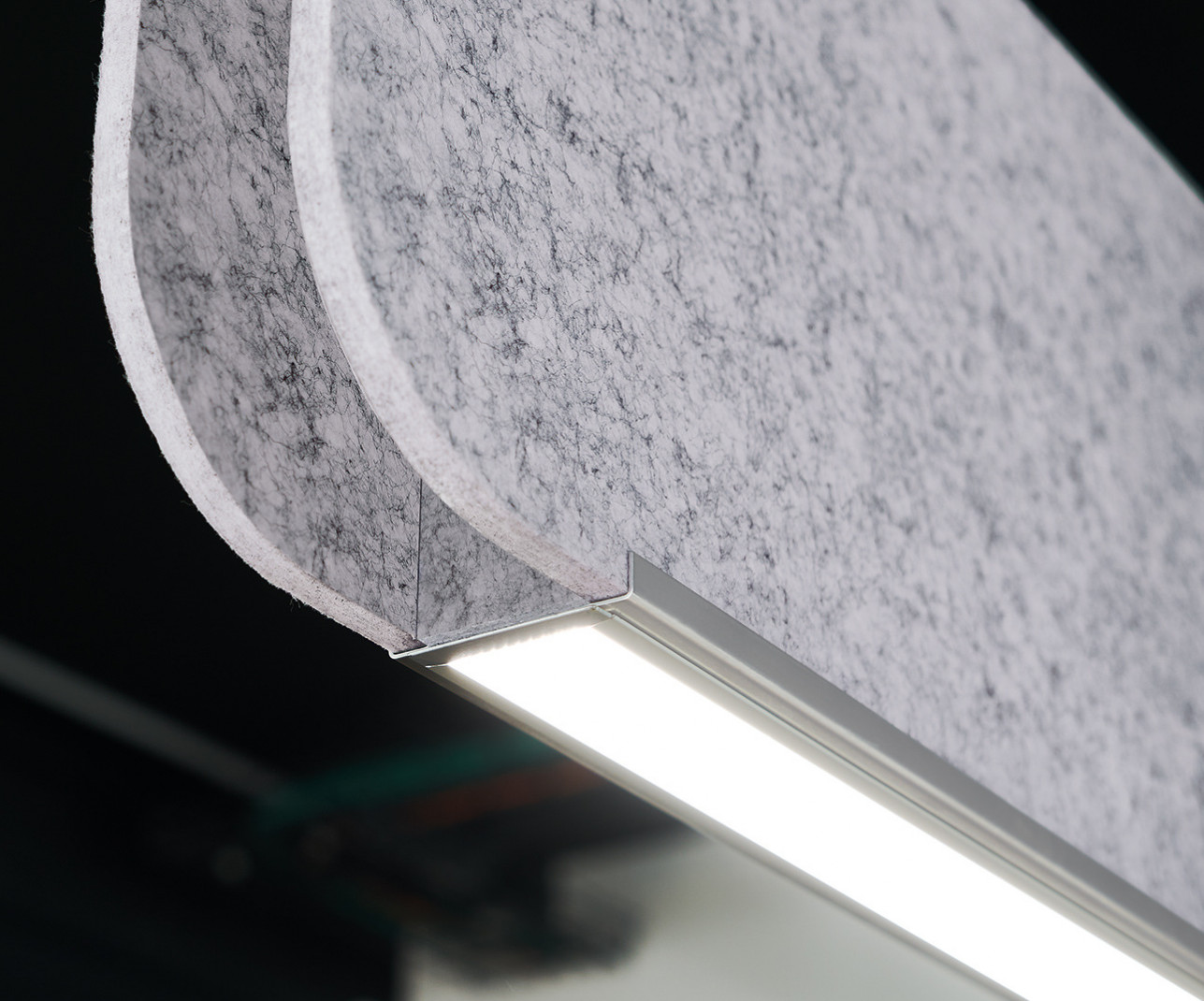 SLIMPANEL BAFFLE
Eco-friendly absorbent compact felt
Hung by their edges, baffles are recommended for spaces where the ceilings have numerous suspended lights, technical or electrical ducts or a natural light source.
Read more
2200x270mm
2200x570mm
1200x270mm
1200x570mm
Compact, light and easy to install, they are hung using 2 or 3 cables depending on the length of the panel. The length of the cables can be adjusted to suit the architecture of the location and its use, close to the ceiling or alternatively lowered to be closer to the sound source.
The baffle is comprised of two pieces with a 35mm plenum between them to improve the acoustic efficiency whilst reducing the overall dimensions of the baffle.

Integrated lighting
The lit baffles have two uses : bringing a light source and improving the acoustics in the room. With the same format and dimensions as the standard version, the lit baffle produces a neutral white 3000K light with a 18W power (for the 1200 baffle) or 35W (for the 2200 baffle).
The height is adjustable so that it can become closer to the sound source to improve the acoustics and the area to be lit.

BENEFITS OF USE
The 100% polyester felt, used as the absorbent is an eco-designed material with many advantages :
- Circular economy: contains 50% recycled polyester fibres from plastic bottles.
- The panel made of calendered fibres obtains excellent acoustic results even for low thickness.
- Meets the strictest safety regulations: fire rating B s2 d0
- The SlimPanel acoustic panels are designed and assembled in France
- Long-lasting :
Easy-care and shock resistant. The lifespan of the SlimPanel products means a cost-effective solution for the project manager, with reduced environmental impacts for the community.
Choose the colour in the Slimcolor leaflet : 9mm thickness compact felt.
The light strip fits into the specially designed cover profile. Dimensions of the light strip : 1 metre for the 1200 baffles and 2 metres for the 2200 baffles. The Lux is a unit that measures light output in a room : 1 Lux = 1 Lumen/m2 The Lumen is a unit that measures the power of a light source. The Kelvin measures the warmth of light. 3000-4000K = neutral white
Here are the recommendations for some spaces Given that one light strip = 18W (2 strips = 36W) and a luminous efficiency of 140 Lumen/W :

Download the brochure of the Slimpanel global offer : click here