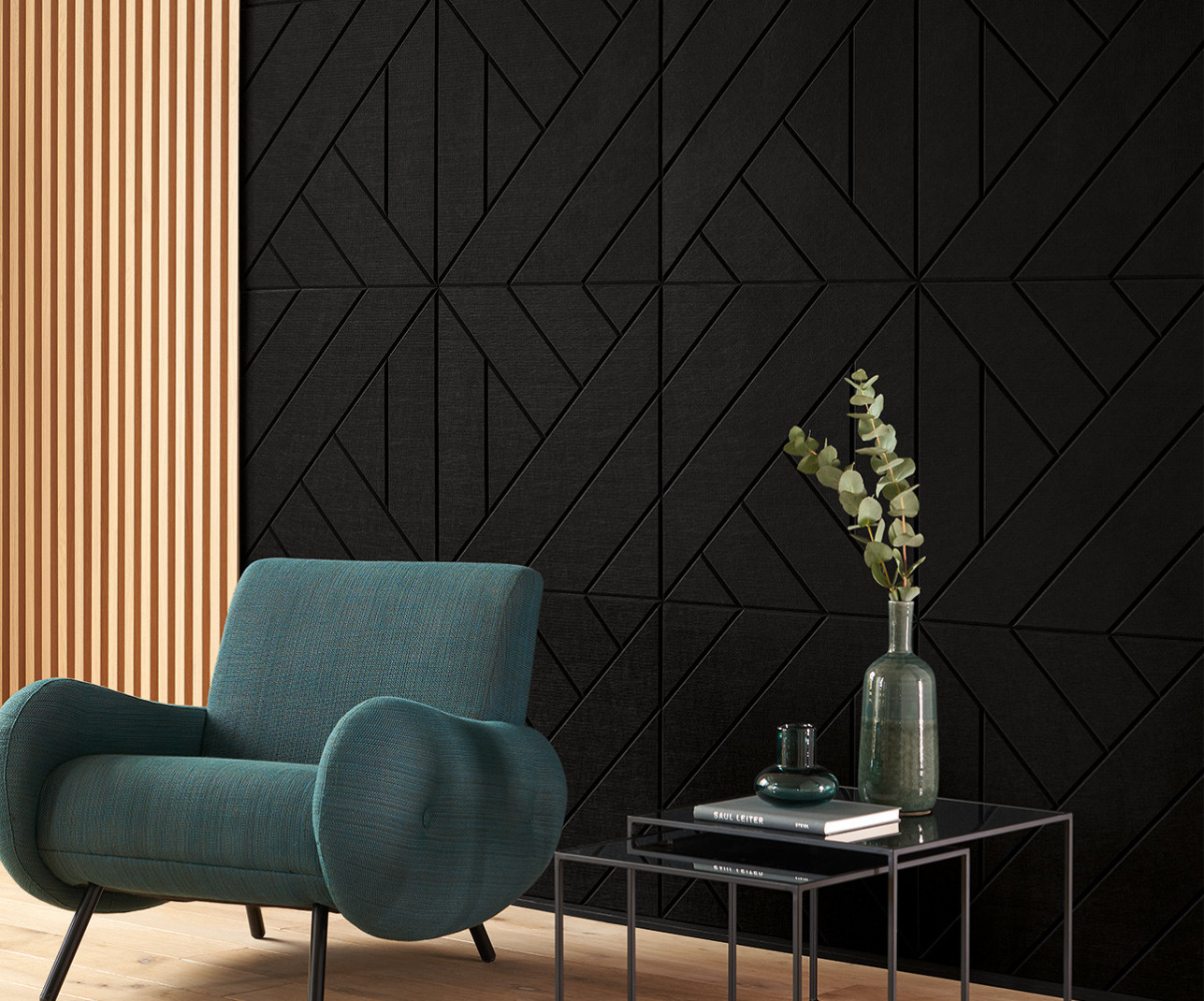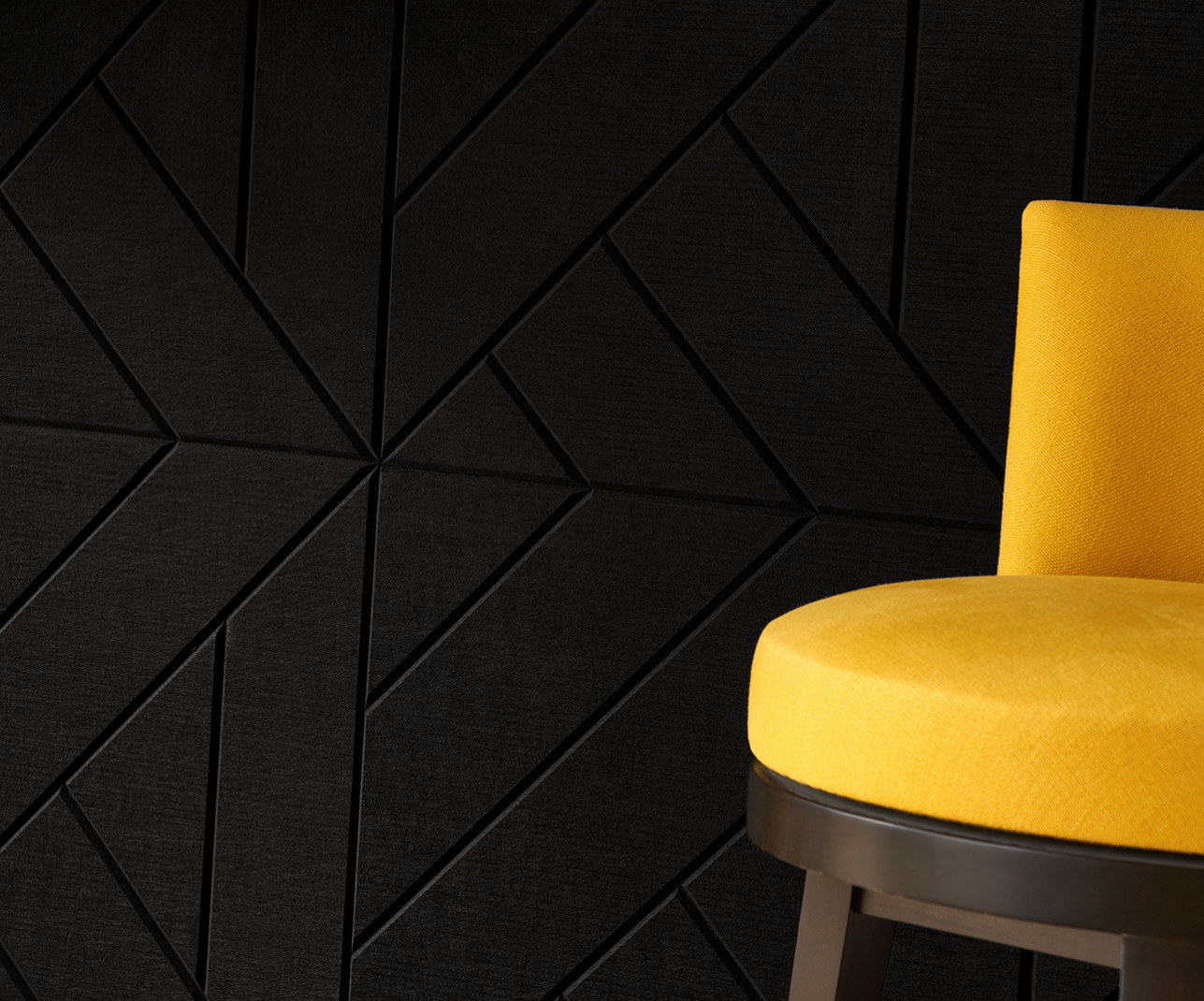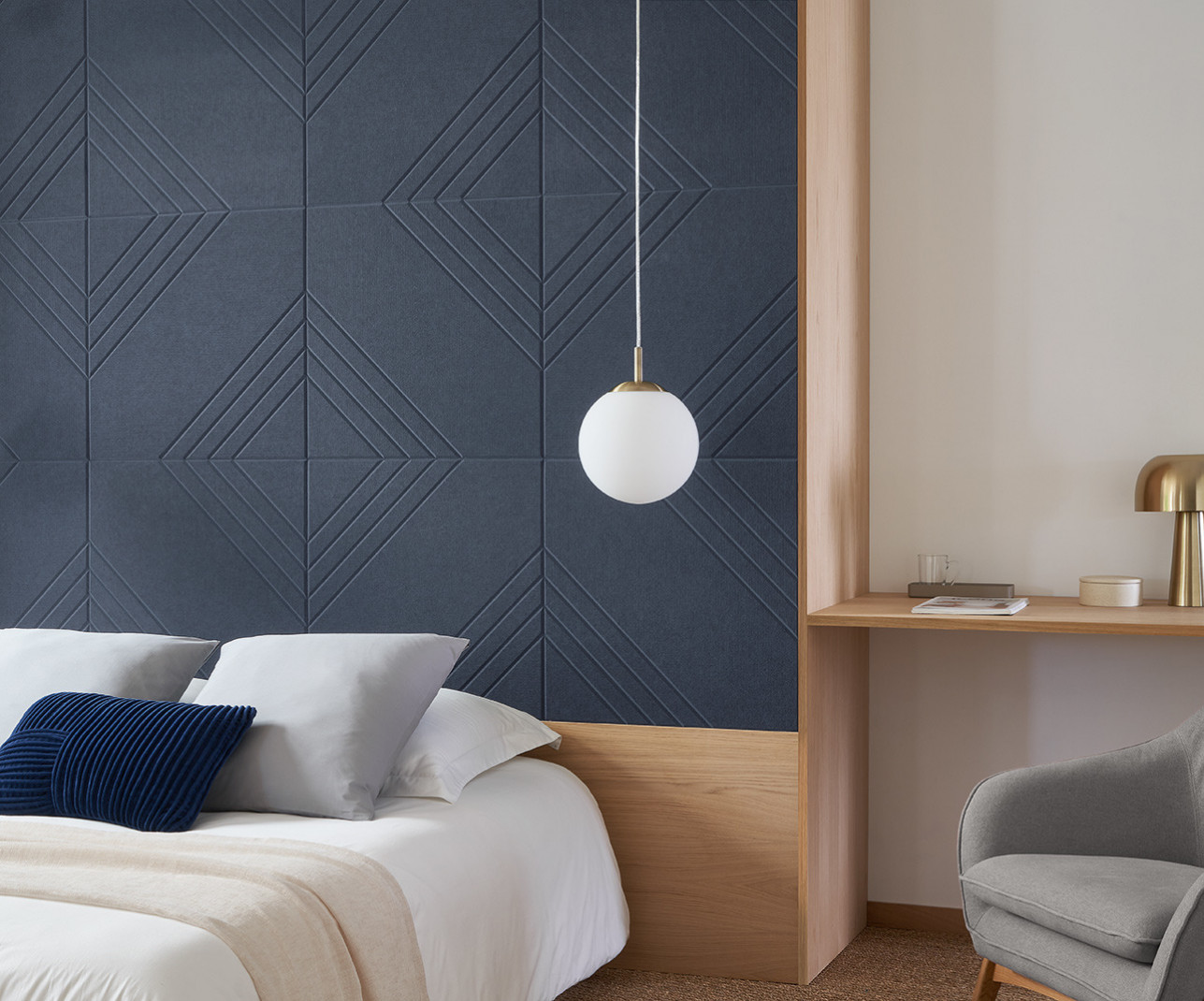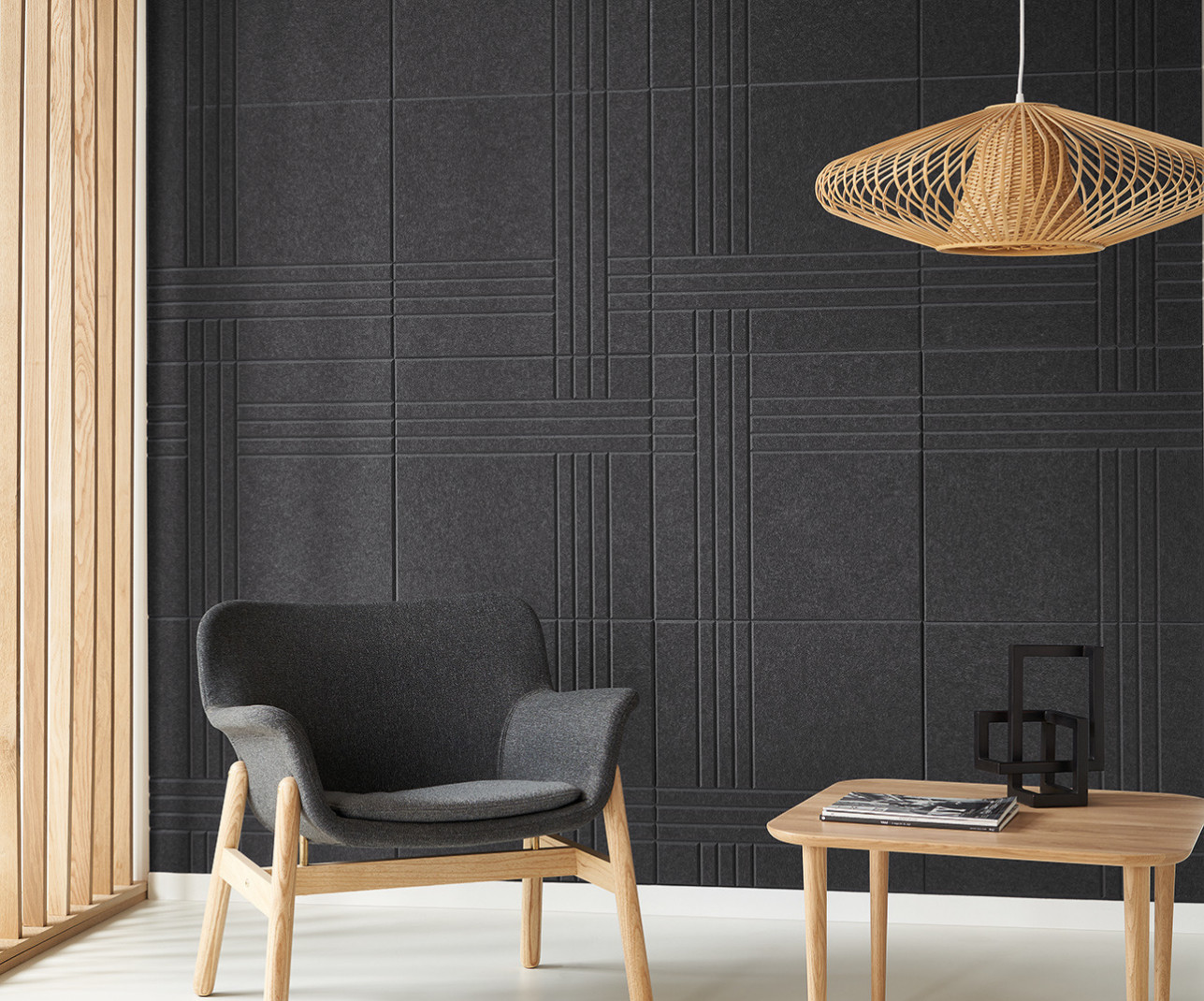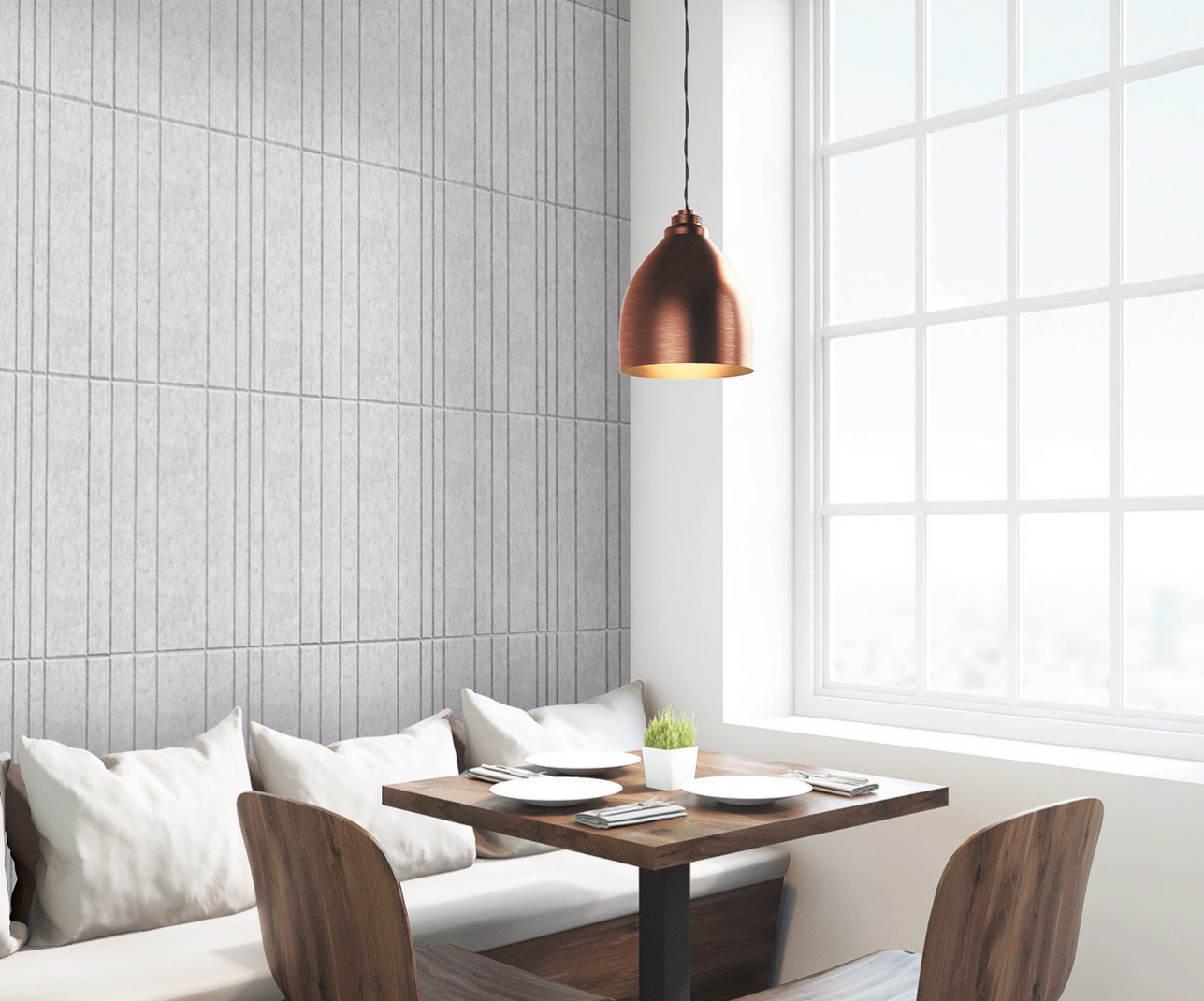 SLIMWALL MOSAIC
Eco-friendly absorbent compact felt acoustic wallpanel
A collection of connectable, decorative and modular acoustic wall tiles.
Their 600 x 600 format and 4 designs can be used to create up to 320 different decors. Personalise your interior: imagine, build, enjoy and create your own personal and comfortable space.
Read more
DELTA
LINEA
SAMPI
TARTAN
Space-saving, this collection will decorate your walls and soften the atmosphere of the narrowest spaces. It requires minimal upkeep and is the ideal acoustic solution in terms of ease of installation, cost-benefits and respect for the environment.

Mosaic is an easy-to-install acoustic wall solution with superb connectable geometric patterns. Available in the 20 colours from the SlimColor palette, SlimWall Mosaic appeals to the imagination.
The collection features 4 designs on 600 x 600 connectable tiles, conceived to create up to 320 decors. The cutting technique gives the product depth so the joints disappear after installation.
Mosaic Delta: With more than 6 possible decors. This retro-chic design recalls cane-work.
However it is installed, your walls will seem to have been woven. The crossing lines will draw the eye.

Mosaic Sampi: With 3 possible decors. A succession of lines create simple decors such as diagonal lines or herringbone, but also a bolder option inspired by the seventies.
Mosaic Linea: With more than 4 possible decors. A discrete pattern that does not go unnoticed. Mounted vertically, the veining creates a relaxing and refined pattern. Horizontally, the lines lengthen your space. Finally, as a chequerboard, this collection recalls parquet floor tiles.
Mosaic Tartan: This design with its intersecting horizontal and vertical lines reminds us of tartan. Once limited to fabrics, it now has its place on walls. The tiles can be used to create up to 3 other tartan designs.

This collection is not only an invitation to invention, but the material use dis also of interest:
It is made of 100% PET of which 60% comes from recycled plastic bottles and is SCS certified. This solution can be used for green construction programmes such as LEED.

Its rigid structure also offers several advantages:
Different installation methods give different absorption coefficients:
The tiles can be glued directly to the walls for an alpha w of 0.25
They can also be mounted on nailed or stapled to battens. With a plenum of 30mm or less, SlimWall Mosaic achieves an alpha w of 0.40.
Rockwool can be added between the battens to further improve its absorption coefficient and insulation.

Simple packaging and easy installation:
The 600 x 600 format makes the tiles easy to handle. The Mosaic collection takes up little space and needs no pre-installation preparation. The tiles are mounted side by side and then on top of each other and are easily trimmed with a blade. Skirting boards are a perfect fit for this product.

Use
- Acoustic conformity : αw from 0.25 to 0.40. Efficient correction from mid-range frequencies, respectively αS 0.35 and 0.80 at 1000Hz and meets NRA (French acoustic regulations). Details available on the website www.texdecor.fr
- Environmental :
Product eco-designed using 60% recycled plastic bottles. SCS certified, this solution can be used in green construction programmes such as LEED
- A cost-effective solution
A single decorative product to correct the acoustics.
Can be ceiling mounted with or without reinforcement.
- An elegant & comfortable look
The felted look and its touch add an additional feeling of comfort
- Quick and easy installation
Supplied as a kit of 8 600 x 600 tiles, the packaging is easy to handle and the installation requires no special on-site preparations. The tiles can be glued or nailed for rapid installation.

Suitable sectors
These acoustic wallpanels are designed for beautiful spaces:
- Services: meeting and conference rooms, offices, banks, reception areas…
- Hotels: lobbies, lounges or restaurants, seminar rooms…
- Specific-use building: theatres, reception rooms, concert halls, casinos, courtrooms…
- Private : home cinemas, living rooms
It can also be used in narrower spaces:
- Alcoves and phone booths in commercial building
- Residential communal areas




SLIMCOLOR

Choose the colour in the Slimcolor leaflet : 9mm thickness compact felt.