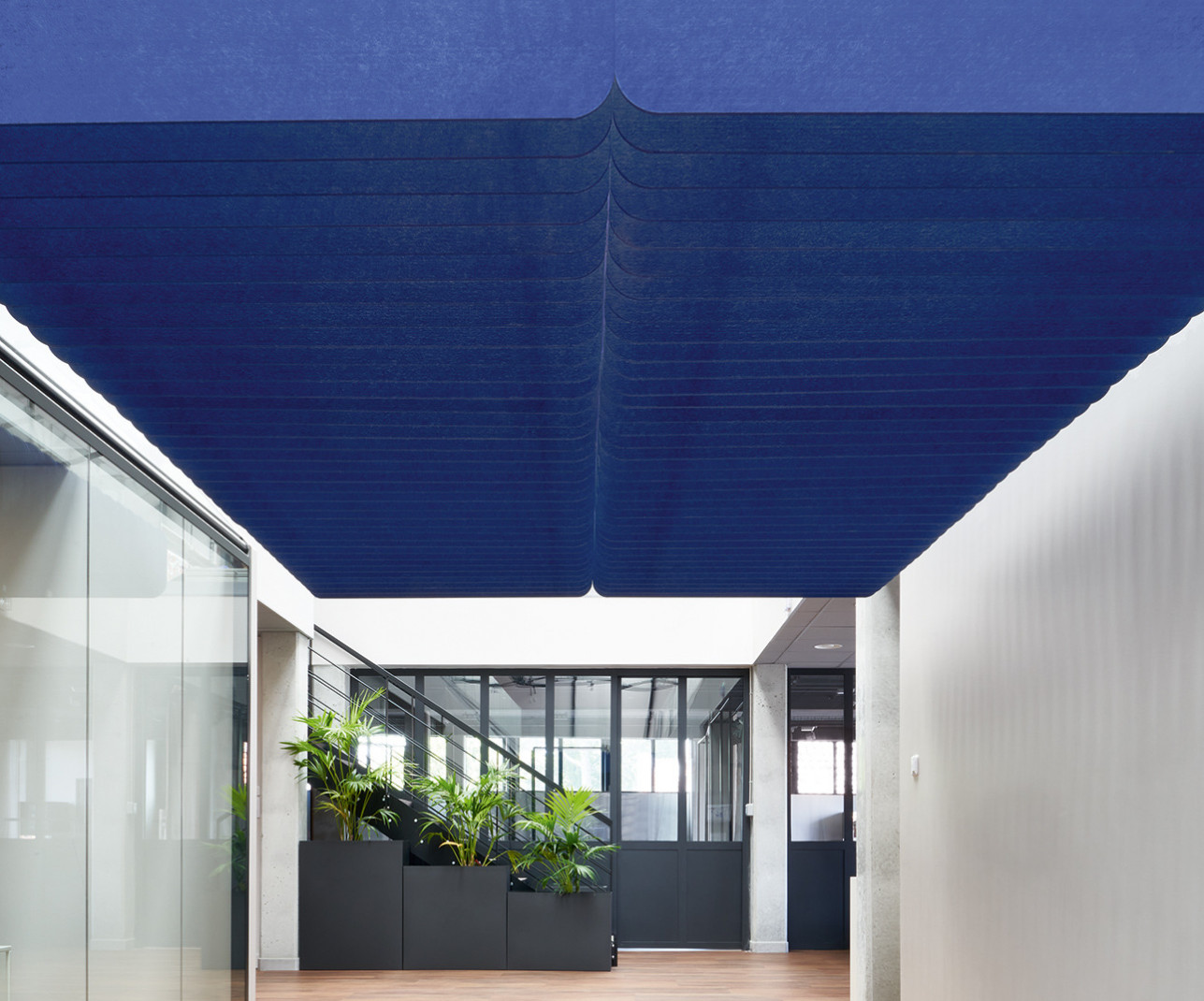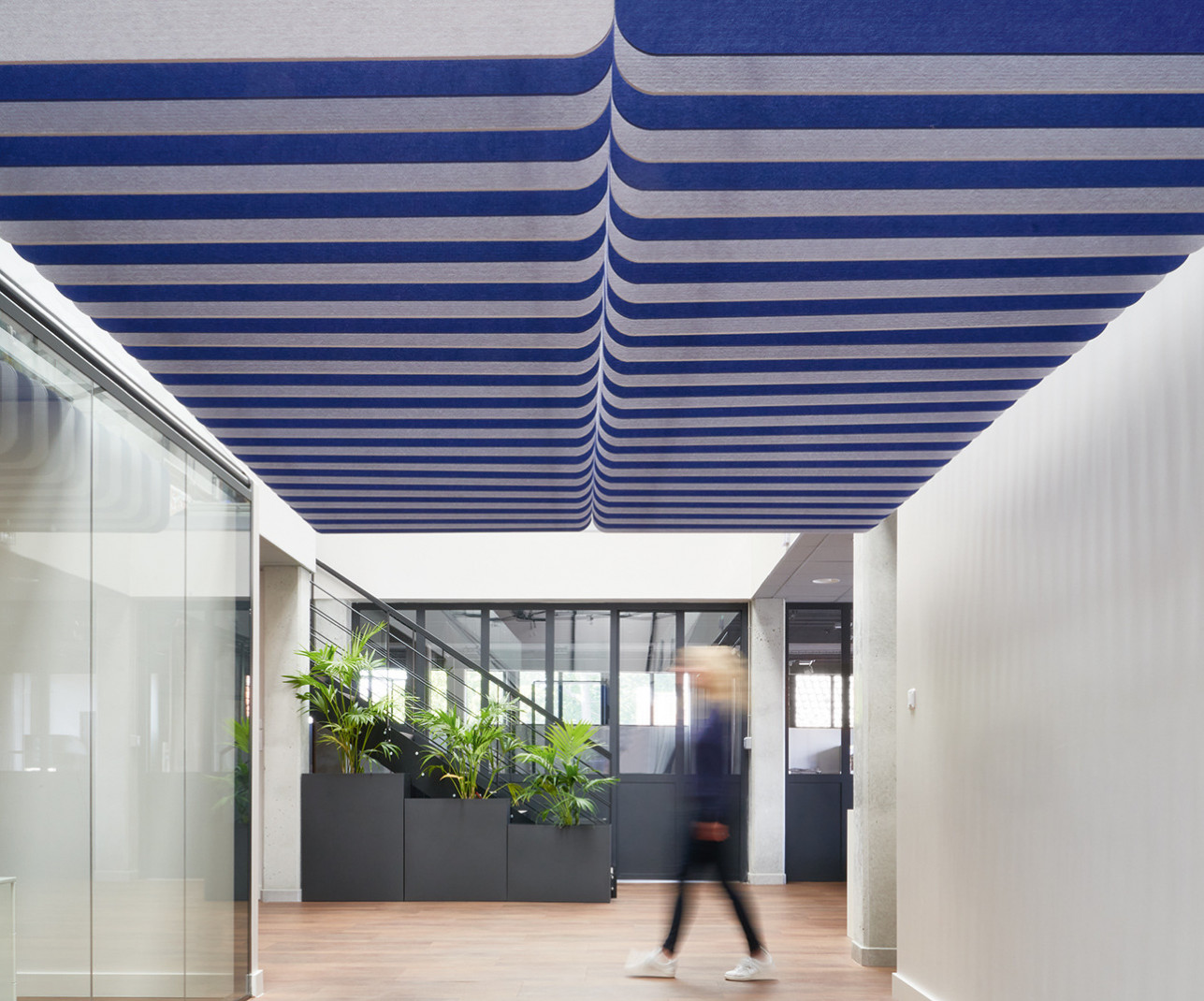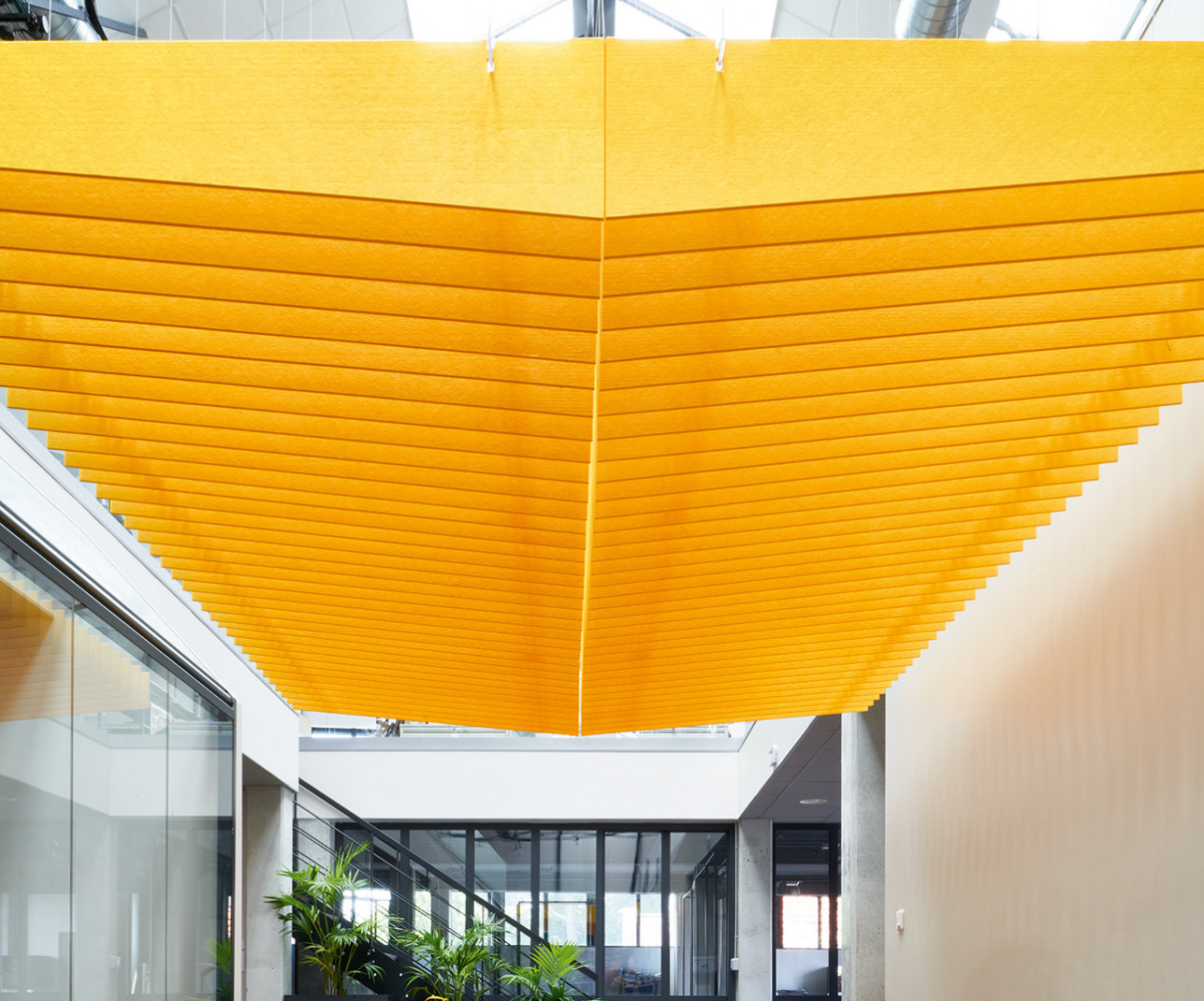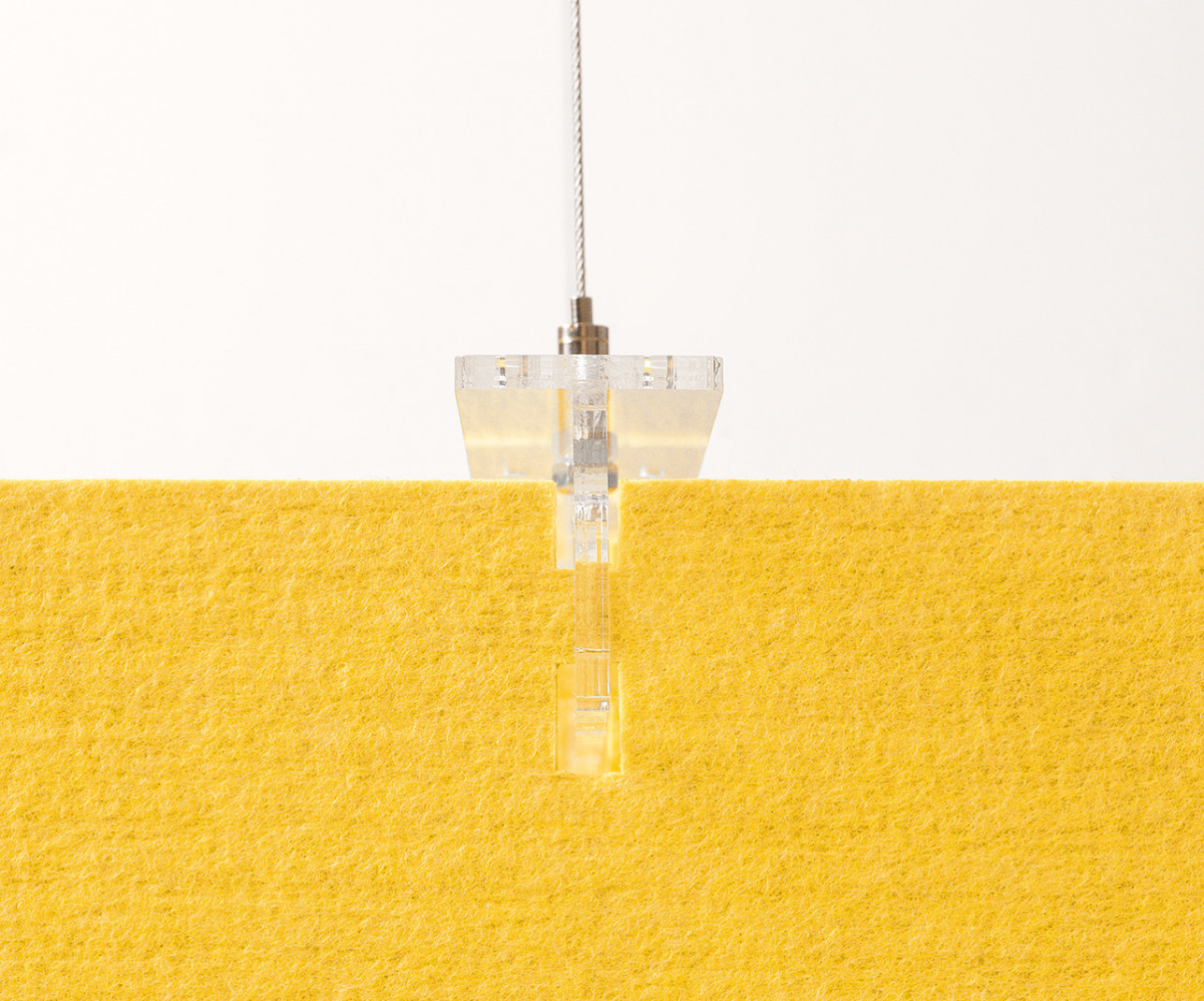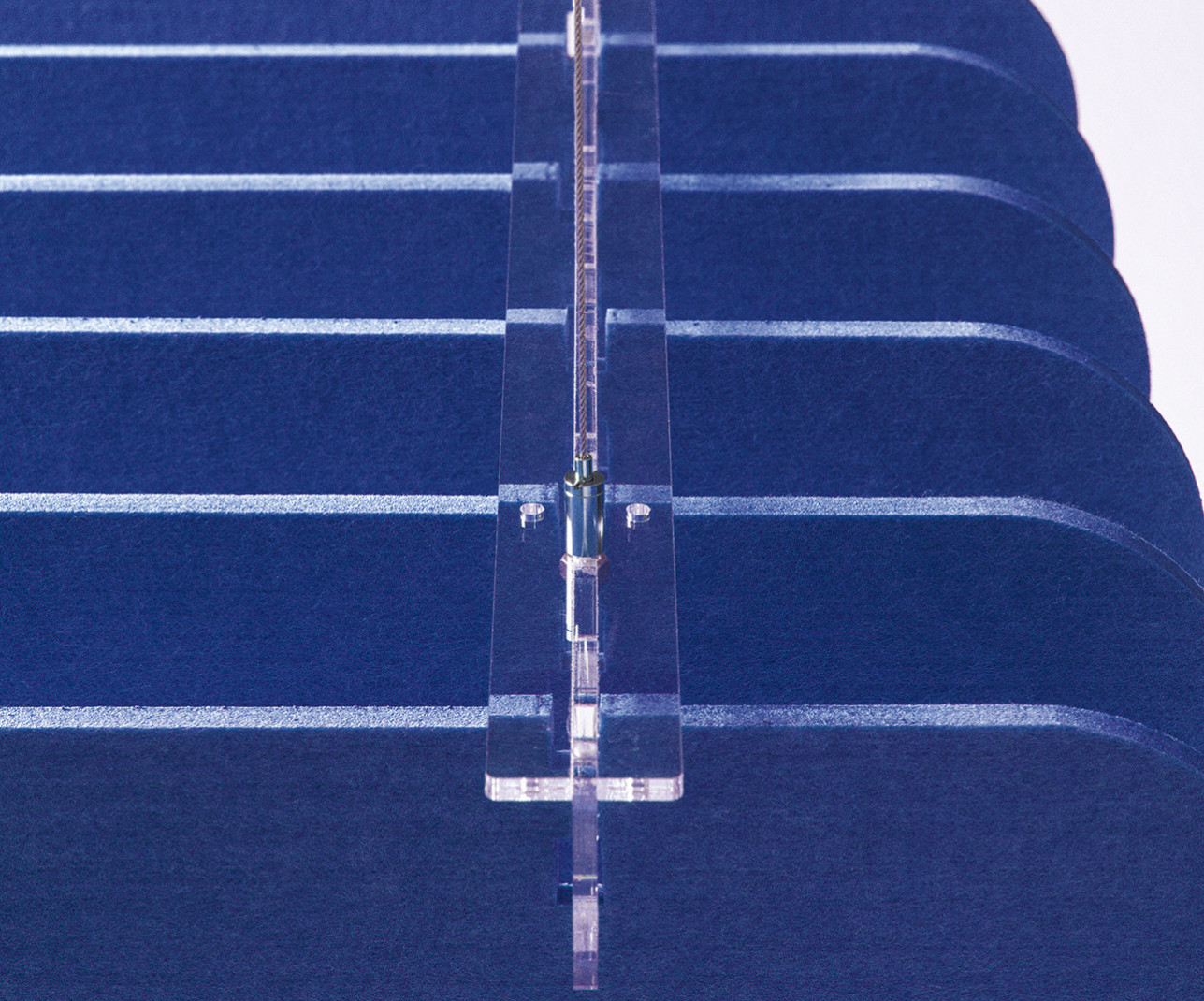 SLIMPANEL GRILLE
Eco-friendly absorbent compact felt
The SlimPanel louvres allow you to partially or completely cover a ceiling.
Read more
S1200x200mm
S1200x300mm
S1200x400mm
S2400x200mm
S2400x300mm
S2400x400mm
T1200x290x190mm
2 sizes of louvre are available :
- 6 slat model
- 12 slat model

Possible personalisations :
- 2 blade lengths: 1200 and 2400mm
- 3 heights of slats combined : 400, 300 and 200mm
- 2 coordinated coloured slats

The louvres are suspended using slings or fixed directly to the ceiling. 2 types of fixing rails are available : white lacquered steel or clear polycarbonate making the louvre lighter and allowing more light to filter through.
The shape of the rail, identical for both finishes, has been specially designed to allow each slat to be fixed independently. Assembly and dismantling of a slat for replacement is therefore very easy and quick, without needing to detach to louvre.

As for the standard SlimPanel louvres, the trapezium louvres can be installed in several different ways to add energy and enlarge your space.
From one type of slat it is possible to create up to 5 decors.

BENEFITS OF USE
The 100% polyester felt, used as the absorbent is an eco-designed material with many advantages :
- Circular economy: contains 50% recycled polyester fibres from plastic bottles.
- The panel made of calendered fibres obtains excellent acoustic results even for low thickness.
- Meets the strictest safety regulations: fire rating B s2 d0
- The SlimPanel acoustic panels are designed and assembled in France
- Long-lasting :
Easy-care and shock resistant. The lifespan of the SlimPanel products means a cost-effective solution for the project manager, with reduced environmental impacts for the community.
Choose the colour in the Slimcolor leaflet : 9mm thickness compact felt.



Louvre standard slats





Louvre trapezium slat





Download the brochure of the Slimpanel global offer : click here


Mercure hotel. Dunkerque. France / SLIMPANEL GRILLE