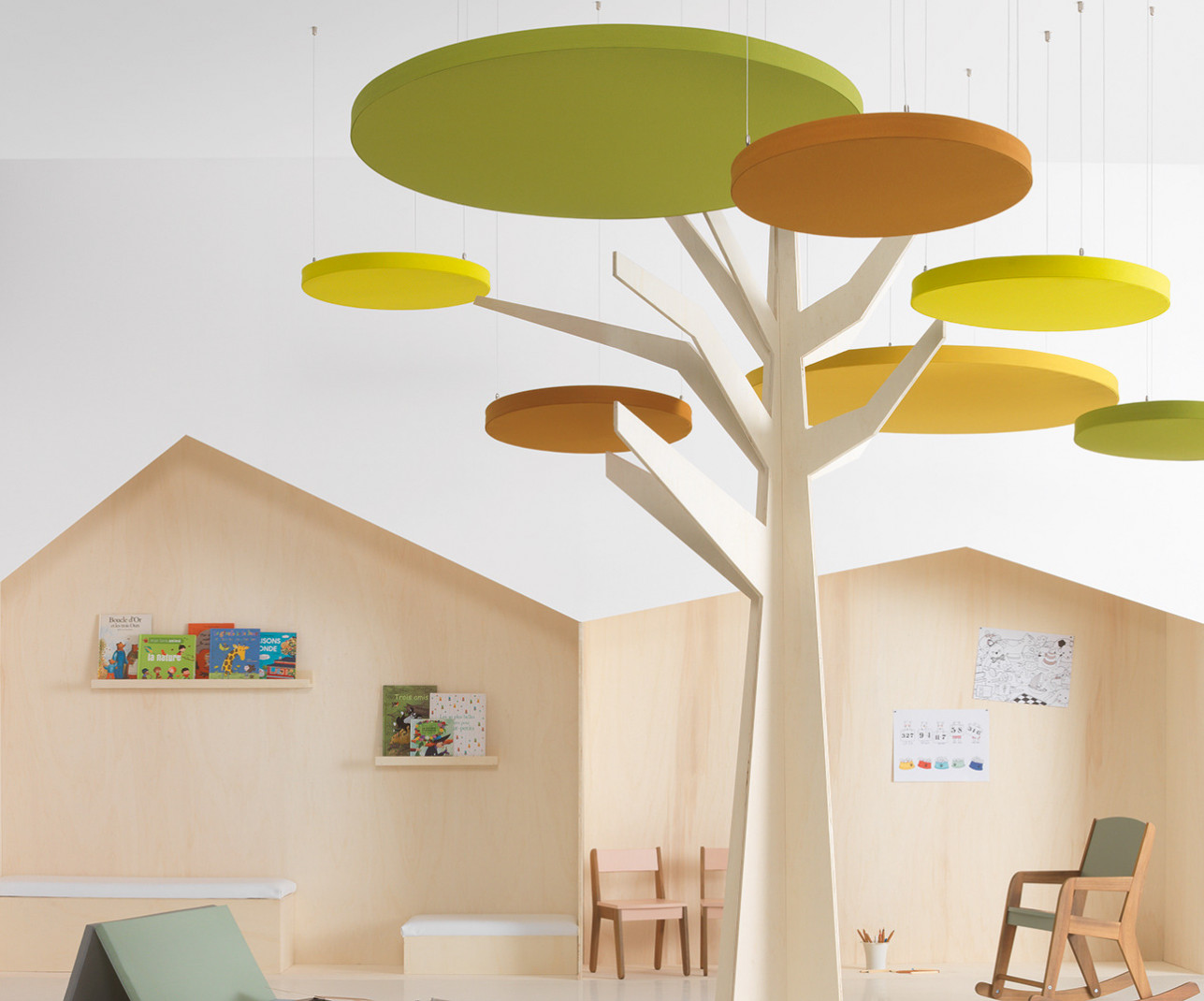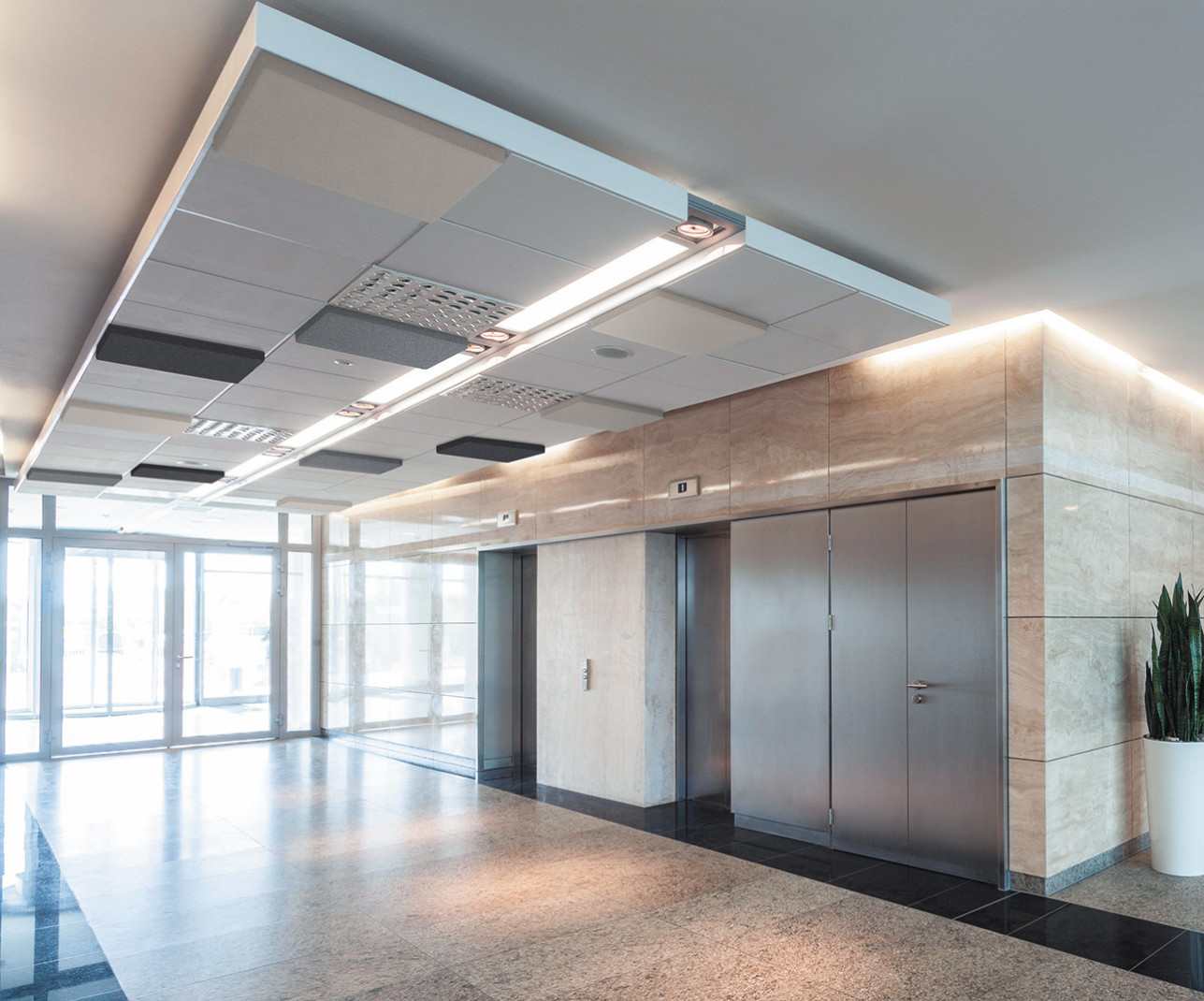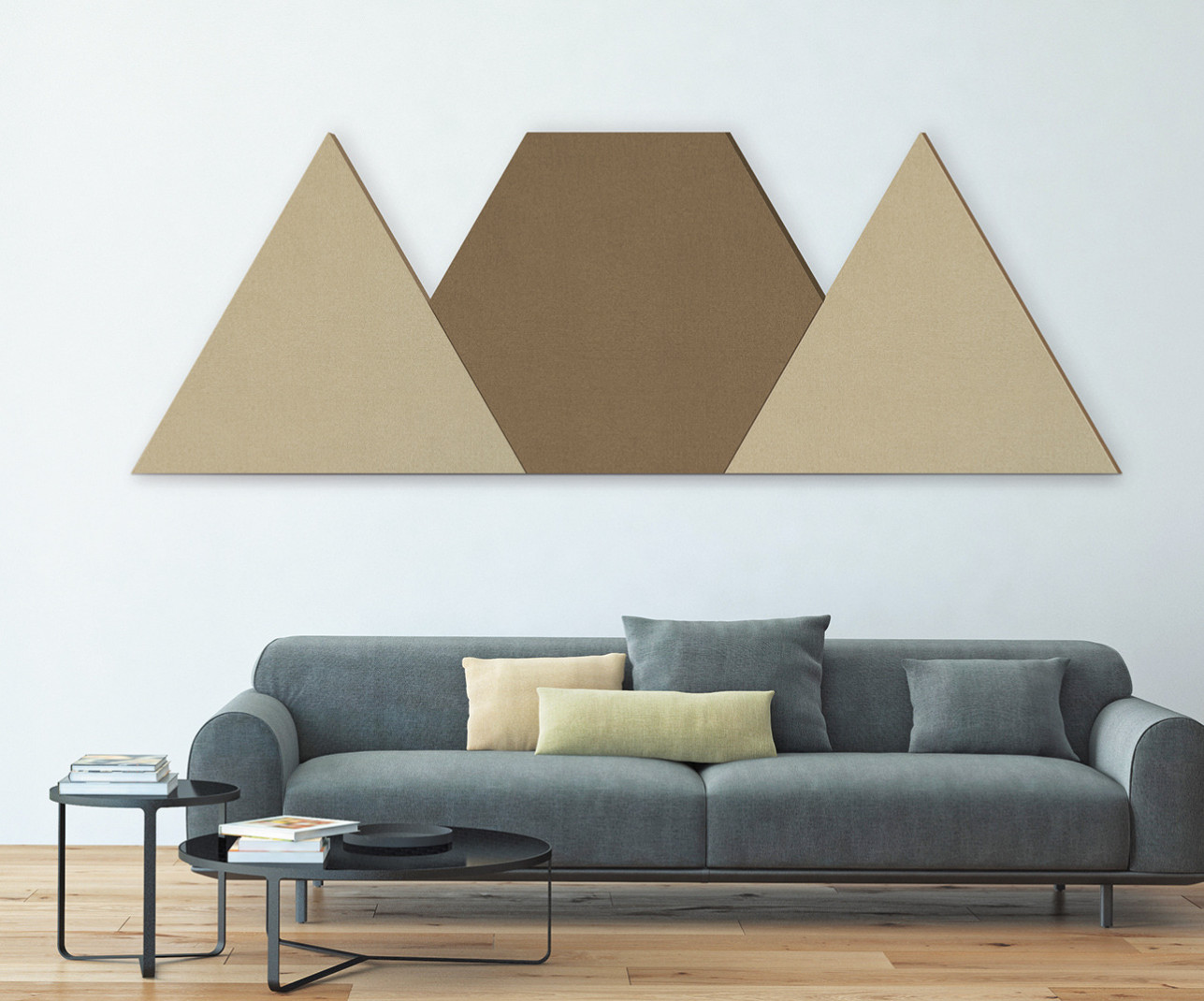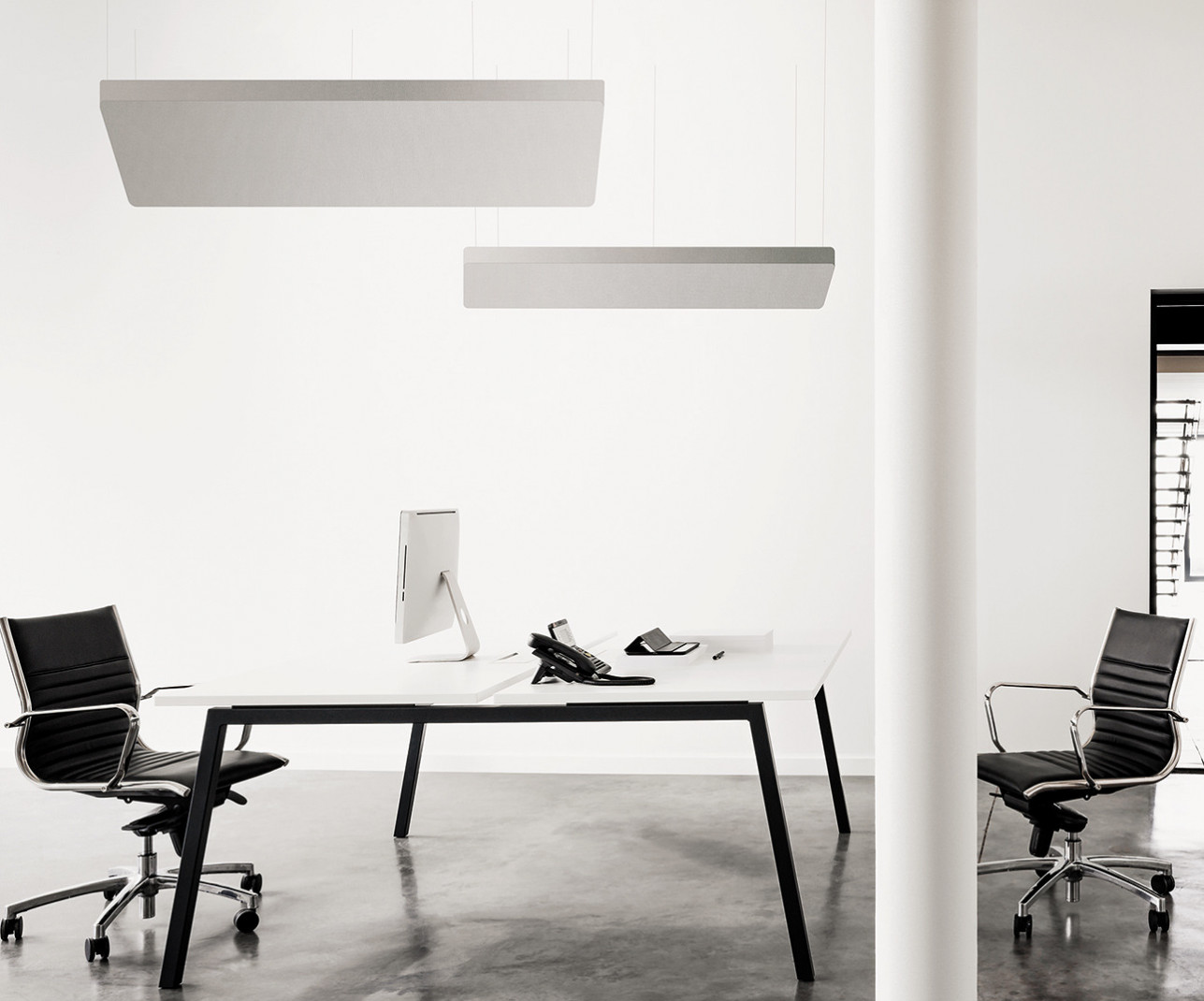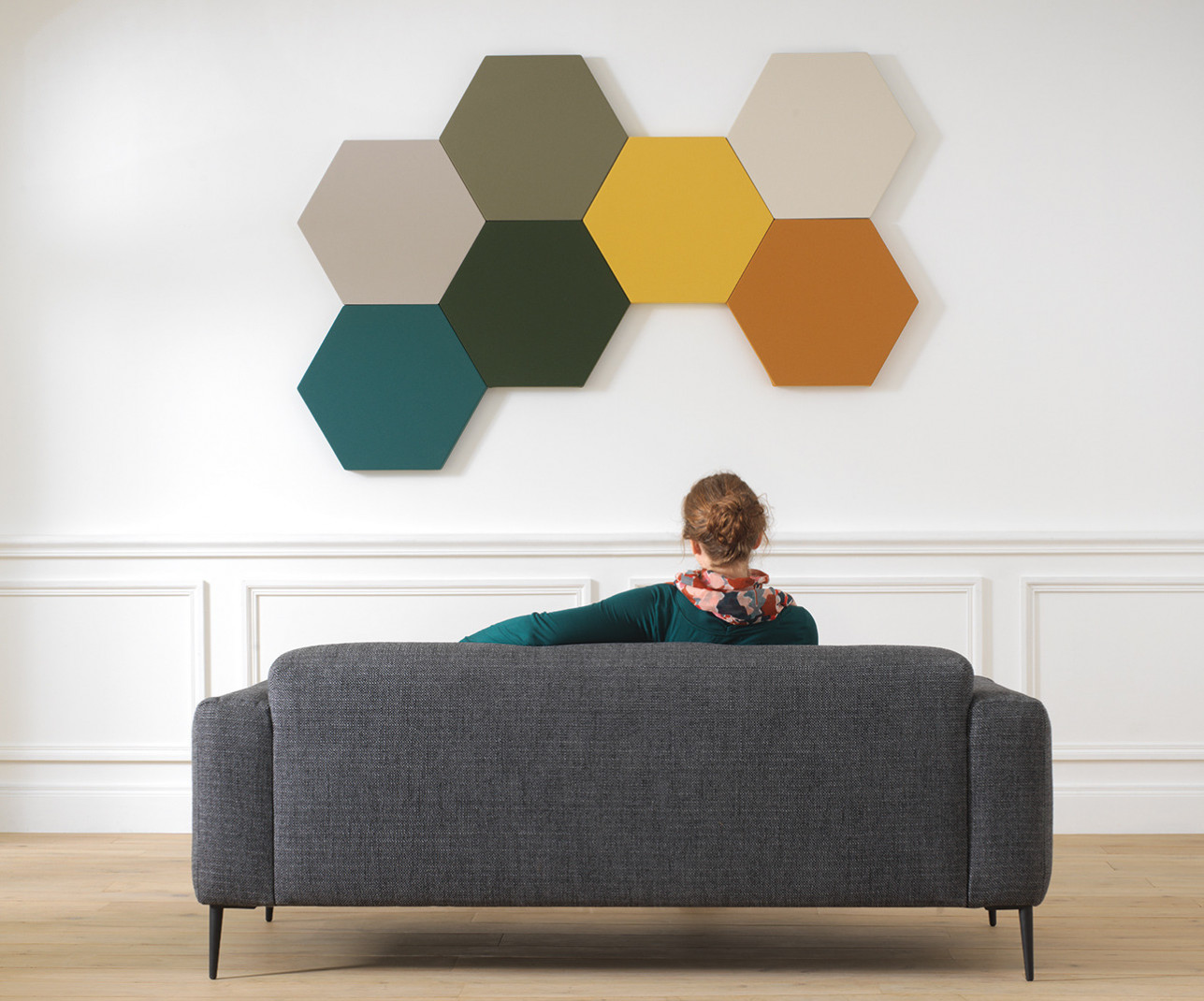 AIRPANEL 1 FACE
Anechoic fabric on open-cell absorbent αw = 1 / NRC = 1

AIRPANEL ensure a solution that is both aesthetic and technical, and can fit into any ceiling or wall configuration.
Read more
Rond600
Rond800
Rond1200
Hexagone600
Hexagone1200
Triangle1200
2400x1200
2400x600
2400x300
1800x1200
1800x600
1800x300
1200x1200
1200x600
1200x300
600x600
600x300
DFP1175x575
DFP575x575
AirPanel has been designed to reduce reverberation phenomena by absorbing sound waves, thereby highly effectively improving a room's interior acoustic comfort. They are well suited to meet the acoustic needs of buildings under renovation as well as regulatory requirements for new buildings of the following types : • Offices: Open spaces, meeting rooms, call centres.
• Restaurants: Hotels, corporate, schools.
• Functional rooms: Music schools, libraries, show halls, amphitheatres

Each type of space requires a specific acoustic treatment, depending on its intended use.This treatment provides several benefits :
• Facilitating discussion and concentration.
• Improving intelligibility of speech and clarity of sound.
• Reducing sound amplification and propagation phenomena resulting from reverberation.

Ceiling and wall AirPanels offer an efficient acoustic solution for the following situations :
• When the wall surface is insufficiently lar ge to an apply acoustic wallcovering.
• During renovations, they can easily be integrated into an existing setup.
• Correct efficently the acoustics with individual panels placed in a room based on the location of the source of the sound and the desired acoustic level target.


ADVANTAGES

AESTHETICS :
19 shapes allowing a layout adapted to the architecture of the buildings.
The brochure «Textile AirPanel» presents the supply of textiles and colors available for the covers.

ACOUSTIC PERFORMANCE : αw =1 / NRC 1 = maximum acoustic performance

SIMPLE TO MOUNT :
• Wall fastening : metal rails or magnets
• Ceiling fastening : metal rails or sling cables

EASY CARE : The panel's fabric cover can be removed. Washable polyester fabric

SAFETY AND ENVIRONMENT :
• Trevira CS / M1 fabric
• Oeketex / M1 absorbent

AirPanel, 18 shapes allowing a layout adapted to the architecture of the buildings.
Multiple color and shape combinations allow you to create a functional ceiling or a unique wall decor.



1/ Choose the format
3/ Choose the application and the method of fixing the panel
Exemple : Ceiling panel with a Twist fabric cover, in blue colour and a square 1200 mm format suspended by white cables



Acoustic comfort is when the sound message (words, music)reaches listeners in a perfect, unaltered state.
A mix of absorbent and reflective surfaces is necessary to achieve maximum level of acoustic comfort.
We talk about acoustic correction when we change the absorption and reflection capacity of one or more walls, by changing their texture, surface, geometry and coating materials.